YES! WE WON!!!
Thank you everybody who voted for us~
"
CosplayGaala, Helsinki, 23.10.2011
CosplayGaala tarjosi tuttuun tapaan koko päivän täydeltä cosplayta. Välähdys-kilpailun voittaja keräsi yli 51% kaikista äänistä - Välähdyksen historian toiseksi paras suoritus.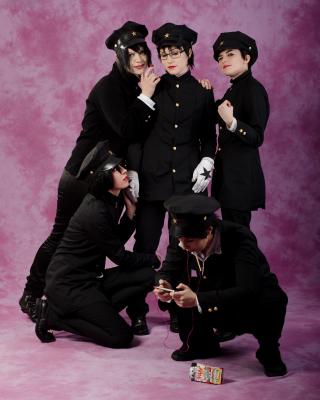 CosplayGaalan voitokas ryhmä. Kuva Miika Ojamo.
1. Kertokaa jotain ryhmästänne - vaikka nimiä tai nimimerkkejä, hahmoja, tai jotain muuta.
Ryhmään kuuluvat nimimerkit Sieg, Dynsse, Elec, Ginga ja Ecca. Hahmot ovat mangasta Litchi Hikari Club, ja kyseessähän ovat hämärää salaseuraa pitävät yläastelaispojat.
2. Mistä tuli ajatus Välähdys-kilpailuun osallistumiseen?
Se vaan tuntui kaikista hyvältä idealta.
3. Kauanko kesti saada kaikki ilmeet kohdilleen onnistunutta kuvaa varten?
Suunnittelimme ilmeitä etukäteen, mutta loppujen lopuksi kaikki tekivät mitä lystäsivät. :D
4. Ja vielä se klassinen kysymys loppuun: Miltä nyt tuntuu?
Klassinen vastaus: Mahtavalta!"
You can find this quoted section
HERE
.
I'm not gonna translate this whole thing except that we got over 51% of the votes which is the second best performance in history of Välähdys :D I feel pretty good about that~
I wanna thank the voters and our other awesome LHC members!!!